Some very good reviews with the album LAIR OF THE WHITE WORM with Paul Roland released at the end of 2020.
Paul Roland – Lair Of The White Worm :: Le Recensioni di OndaRock
Debut Album Valley of Thorns by The Kut, has been released on Cargo Records, features some tracks I recorded a few years back. Some great reviews already for this album, you can buy online and also in HMV!
Tracks were – Mind Games, Alekhines Gun, I am Vain, Xray Eyes, I Want You Maniac, and Bad Man.
No. #7 in the UK Rock Albums Chart
No. #6 in the UK Independent Album Breakers Chart
No. #18 in the UK Independent Albums Chart
–
–
–
–
–
–
–
Featured in December Issue of Kerrang 2016.
Kerrang! Magazine premiere the brand new music video by The Kut today (Friday 15th May)! The track, I Don't Need Therapy is taken from the recent 'Rock Paper Scissors EP' and was directed by Mike Gripz. Watch it from 4pm at http://kerrang.com
Classic Rock Magazine
Tracks of the Week
"Bad Man marks the precise point in the Venn diagram where L7 meets I Wanna Be Your Dog meets Courtney Love, which is equal parts terrifying and a cause for long and rowdy celebration. Punk's not dead, pass it on."
Q Magazine
Top 5 Tracks To Listen to This Week
"There's a slice of angst-offloading gutter rock that's a kissing cousin of Hole, but The Kut's scuzz-covered family tree also stretches further back to the garage rampages of The Stooges."
Q MAGAZINE.

THE KUT 2015 (MIDDLE RIGHT). BIG CHEESE MAGAZINE


Paul Roland Album Review French Magazine: OBSKURE – 2014.
It's in French but they gave it 80% !
<P>Paul Roland German Press Reviews 2014 'Hexen'
http://www.gothic-magazine.de/index.php?site=news&artikel=528
http://www.rocktimes.de/gesamt/r/paul_roland/hexen.html
http://www.musikzirkus-magazin.de/dateien/Pages/CD_Kritiken/rock/paul_roland_with_ralf_jesek_hexen.htm
Tom Tom Magazine 2012. New York Interview.
XBOX 360 Tracks.
Violet The Cannibal
Interview by Sean Mitchell // April 13 2012
With anything you just have to keep going and believe in it, and what you're doing. It's a fulltime thing if you want to succeed.
Hey, Violet, let's dive right in. Who are you currently playing with and what have you been up to? 
For the last 18 months I have been on tour with Adam Bomb. We play 250 shows a year and we recently spent six weeks recording four albums in New York.  At the moment we are taking a break. Also I have two tracks featured on Rock Band for XBOX, "Sisters" and "Say Sayonara" for all girl band JOANovARC.
For the uninitiated, tell me about Adam and the Adam Bomb show. 
Well, we have a better light show than KISS. The drums are lit up, the amps are lit, and now Adam has his flying "V" in lights. Adam uses fireworks on his guitar, Paulo breathes fire, and I set my cymbals alight. Even the boas go up smoke some nights! Every night is different. But it is always something to see.
You have been touted as the UK's hardest working drummer, having played 850 shows between 2005 and 2008. How do you keep yourself in shape to survive such an exhausting schedule? How cool was that time in your life? 
Well I think my stint with UTE in 2005-2008 definitely prepared me for Adam's schedule a couple of years down the line. I have seen some great places with both bands, met some great people and played with some brilliant bands as well. This sort of experience is something money can't buy. You just have to work hard and push yourself, even when you have nothing left to give.
On surviving, eat properly—although that can be difficult sometimes. Rest as much as you can. Take some good books and some good music. Lugging the gear around keeps me fit on tour, plus the drumming as well. I really should do more exercise off tour. I guess that's my new year's resolution.
Let's go back to the beginning. How did you get your start in drumming?
I always liked the look of the drum kit at school. Music in general; I just enjoyed listening to music. The beat always stood out.
You studied under Dragonforce's Dave Mackingtosh at one time. What was the experience like and how did you end up taking lessons with him?
Well, Dave lives not far from me. This was a few years ago now. At the time, I was put in touch with him at the local music shop. Dave is a lovely guy and hasn't changed one bit, a fantastic player. Even then he had a massive double bass Tama drum kit!
Tell me about your life outside of touring and the industry. What fuels you outside of drumming?
Well, at the moment I am getting used to being back home and not having to rush off again. I like to catch up with friends, take my dogs for walks, watch Top Gear, eat chocolate, and get tattoos done, buy shoes and clothes and spend money in general. Music is my life really.
Can you give me your perspective of the indie scene and the effect the internet has on music. What is it like in the UK for the unsigned and indie artist?
Well, I haven't really been here so I am probably not the best person to ask, but there are some really good bands about. I think the internet is a very useful tool for bands and getting your music to a wider audience, and for finding new places to play. But with anything you just have to keep going and believe in it, and what you're doing. It's a fulltime thing if you want to succeed.
What types of music moves you and what is in your iPod at the moment?
Really does depend on my mood. At the moment though, I am listening to more electronic dancey stuff, such as DJ Fresh, David Guetta, Calvin Harris, and Nero. Also Jill Jackson's old band, Speedway and Katy Perry. They are playing at the moment.
Of all the bands you have shared the stage with, which drummers stick out in your mind?
There is a great drummer who plays with Marty Friedman; a Japanese guy, I am not sure of his name, but he was a really great player and showman as well. We supported them in France last year. James Kottak was great to watch as too. There have been many.
What was the best piece of advice you ever received?
My Father: "Nothing worth working for is ever easy." Dave Mackingtosh: "The time you feel like quitting is the time to keep going, else everything you have done so far has been for nothing (something like that)."
What was the worst job you ever held? 
Pot washer.
What do you have coming up in the next few months? 
At the moment I am just taking some time out. I have a few projects coming in soon.  More teaching is something I am working on now. Another tour later in the year is planned with Adam.
Visit Victoria online: http://violetthecannibal.co.uk/
VICE SQUAD, punk rock band
Vice Squad, punk band at the Peel, Kingston, November 2012.  
Vice Squad played a real blinder. Fast and furious from start to finish and hugely entertaining!
Now a fair few bands from 'back in the day' just crank out the old hits and I'm not saying that's necessarily a bad thing but Vice Squad have more than their fair share of recent classics too. Just have a listen to later songs like Sniffing Glue or Spitfire to see what I mean. They played a confident, rocking and fun set to an admittedly pretty sparse crowd. Up against four other punk gigs in London on the same night and with the rain and wind howling outside it was perhaps understandable that the turnout was poor. If Vice Squad cared it didn't show. They pretty much individually dedicated a song to anyone in the audience who was visible from the stage with plenty of good natured banter. It's this affinity with their audience that's so refreshing. Vocalist and guitarist Beki Bondage understands the underground and what it means to be an independent band. That whole punk DIY ethic lives on. I ordered a couple of CD's from the band after the show and they turned up within two days personally signed by Beki! 
Set highlights included early classics such as Last Rockers, the aforementioned Sniffing Glue and a quite frankly ferocious version of Ace Of Spades. Drummer Violet The Cannibal was an entertaining, technically perfect, and at times seemingly bonkers whirlwind throughout the set while Paul and Wayne lay down some thunderous riffs and rhythms. Beki herself now possesses a powerful voice, certainly much stronger than on the early records. She plays rhythm guitar too on many of the songs. As a unit they are firing on all cylinders and you can't ask a group for any more than that. I don't know if Vice Squad will venture back to Kingston any time soon but for anyone there it was all the more special for being such a small intimate gig. Personally I'm going to be looking out for them playing again anywhere within striking distance. Great night.  
Band website: vicesquad.co.uk  
Vice Squad – recent releases:
Punk Rock Radio CD / Vinyl LP / Download (Last Rocker Records, 2012) – support Independent music by buying direct from vicesquadshop.com 
London Underground CD / Vinyl LP / Download (Last Rockers Records, 2009) – support Independent music by buying direct from vicesquadshop.com 
All photographs copyright artofthestate 2012 
Paul Rooney – Vice Squad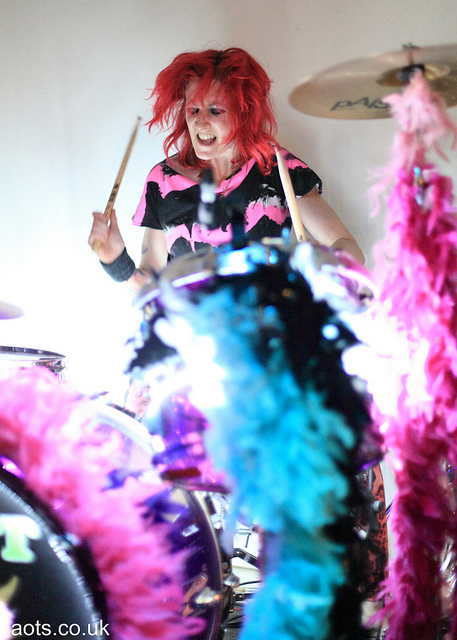 ADAM BOMB RETURNS WITH A CARNIVAL OF GLAM
Show Date: March 19, 2011

Location: Berlin, Germany
Venue: Wild At Heart Club
Reviewer: Dirk Ballerstaedt
Band Website: www.adambomb.com – www.myspace.com/adambomb2012I know it's a cliche, but what else can I tell you except this was one of the better club shows I've seen in a long time.One day before the show I was cruising through the internet looking for shows in Berlin and was positively shocked to see that the next day 'fatal attraction ' Adam Bomb (the guitar hero from New York) would be in town to perform a show. I knew Adam Bomb from his early work on TKO's In Your Face album, which was released in 1984, and back then he was well known for his melodic and rough guitar delivery — and a year later his first solo album Fatal Attraction came out. Hopefully a lot of you who are into that classic melodic hard rock will know songs like "SST", "Shape Of The World" or the smash "I Want My Heavy Metal".
LIVE: ADAM BOMB (GLAM/ROCK'N'ROLL – NYC/USA) + DJ FRANK FRESHNESS (FICKEN 3000)
AT THE RESTAURANT
ADAM BOMB
(Rock n Roll – NYC/USA)
https://www.facebook.com/adambomb2012

The rock n roll circus known as Adam Bomb, has been tearing the road all over Europe. Like no band has toured before. 
For the past 7 years, Adam Bomb has developed a die hard fan base, playing up to 250 shows a year, this band does more gigs than most people have hot meals.
Along with long time bassist, fire breather and rock screamer Paul Del Bello, and new drummer Violet Cannibal, who is quite possibly the best female rock drummer in the world, this band will be burning up club & festival stages on the Rock On Rock Hard Rock Animal 2012 Tour. 
This band is the real deal, as dirty as it gets. On stage & off, Adam Bomb is a larger than life guitar hero, a menace to police and a rock n roll outlaw. In 2010 alone, the band traveled over 100,000 kilometers and obtained over 200 signatures in their "police only" guestbook. Adam Bomb himself has been quite popular in some border towns and is frequently stopped by police who ask to get a photograph with Adam.
The band uses lights and fire, pyro effects, putting on a rock show that leaves audiences breathless.
With Adam's original smash hits like Pure S.E.X. I Want My Heavy Metal, Pissed, D.W.I. On The Info Superhighway, S.S.T,, Rock Like F**k and the French hot single Je Taime Bebe, the band also does classic songs written by Kiss, UFO, AC DC, Trust,and Led Zeppelin. The bass player of Led Zeppelin, John Paul Jones, wrote a song called Angry Angry especially for Adam to play live. Adam played guitar on the recorded version that appears on John Paul Jones most recent solo album The Thunderthief.
Since 2003, Adam Bomb has supported Motorhead, Iggy Pop, Twisted Sister, Hanoi Rocks, Steve Adler of Guns 'n Roses,The Wildhearts, Marky Ramone, Dragonforce and others as well as doing over 1500 headline shows.
Adam Bomb has played in concerts in the UK, Ireland, France, Belgium, Holland, Germany, Czech Republic, Switzerland, Slovenia, Bulgaria, Poland, Finland, Sweden, Estonia, Latvia, Lithuania, Norway, Italy, Denmark, and Monaco,
The band has done this accomplishment all WITHOUT a booking agent, record company, or manager.
The promotion for this show was a bit lacklustre, but a few fans managed to come out and rock. After two support bands, and a beer later, 
Adam Bomb
 and his wonderful band — consisting of English drummer 
Violet The Cannibal
 and Italian bassist 
Paul Del Bello
 — entered the small stage. With drums decorated with colorful scarves and little lights on the amps and guitar straps, it was damn clear that glam rock was going to have its revival tonight.
Adam Bomb lit off a little pyro from the neck of his rose guitar and then the band started things off with "Angry Angry" (a song written by John Paul Jones). As the smoke from the pyro slowly cleared away the show went on with heavy tunes like "Crazy Motherf**ker", "SST", the crazy romantic love song about fellatio "Je T'aime Bebe", a fast version of AC/DC's "Let There Be Rock", "Rock Like F**k", and the dynamic hard-driving "Pure S.E.X.". The show was all about having fun, and every fifth or sixth song Adam lit up a little more pyro from his guitar neck and enjoyed lighting fire to this small stage.
I'm always surprised how many fans find their ways to almost secret gigs like this, and these rockers know all the lyrics and aren't ashamed to sing along. I think German, or European, hard rock fans are very loyal and don't forget about good music and bands from way back in the '80s. 
Adam Bomb
, who now lives in New York, is an entertainer that performs the way only an American can — he walks the stage like it is his living room, he interacts with the crowd like you'd expect from a rockstar, he can play guitar while singing melodic and powerful lyrics and he's still a living legend. OK, maybe that's a bit of a stretch, but with a show like this you get your money's worth (and still have some left to buy a CD or a shirt).
Even though Adam Bomb ruled the stage, his two band members are more than side players — they are the solid ground that an ego like Adam needs in order to fly high through his very varied repertoire which after a bunch of rocking tunes led directly into his so-called "Guitarmageddon", a wild solo which featured a lot of quotations throughout the music. After that it was time to heat the place up with "I Want My Heavy Metal", which is his best known song, and it was time for an intermezzo with the audience where Adam let the audience sing with him. Finally female drummer Violet The Cannibal (what a lovely name) did a kick-ass drum solo with burning cymbals, and then it was party time again with KISS' "Detroit Rock City".
It was very obvious that the fans wanted more and resulted in 
Adam Bomb
 doing three encores, the highlight being a furiously rocking and swinging rendition of 
Frank Sinatra
's "New York, New York". Even though 
Adam Bomb
 has a lot of his own material, performing more than four cover-tunes was no risk at all. On the contrary, this guitar hero from New York is — first of all — an entertainer who breaths more than life into other compositions and allows them to bloom like exotic flowers. It was all very exciting and colorful.
It might sound like I saw this show though rose-tinted glasses, but Adam Bomb (and by that I mean the entire three-piece band) was more than a surprise on this Saturday night. The three rockers were even nice while signing autographs after the show, selling CDs and shirts, and had a little chat with their fans.
To me Adam Bomb is a survivor of the '80s hair-metal scene — and his attitude is like a little box filled with shining pearls that you always want to play with. What more can you expect from a musician who has been in this business since 1980?
MUSIC AND PERFORMANCE
FEMALE DRUMMERS – VIOLET THE CANNIBAL
20 Sep 2011
Violet the Cannibal. Photo by Peter van Rijsbergen
At WhenSallyMetSally, we have the privilege of meeting some very interesting people. Recently, we heard from Violet the Cannibal, who says she's "the UK's hardest working female drummer". With a name like that and a claim like that we were intrigued! So, we thought we'd ask her a few more questions. Violet tours with rock guitar legend Adam Bomb. She also plays with girl rock group Joan ov Arc, whose track Sisters will be released on Rock Band 3 for XBox in November.
Why are you called Violet the Cannibal?
Violet Cannibal is my name. I only eat small children so you're safe!
So, being the UK's hardest working female drummer, describe your average week/month.
When on tour with Adam (Bomb), we play pretty much everyday. Usually 3 months at a time, mainly in Europe and a few weeks in the UK. We play small clubs, large venues, huge festivals and everything in between, even strip joints!
The shit holes are where you learn your craft. They sometimes turn out to be the best gigs!
It can be very tiring at times as you're not only doing the show, you're moving all the gear around, and there are very long drives. For me it's about the playing, and getting better and trying something new each night.
If we're not playing, we are usually driving to a show – which is often very far away, sometimes to a different country. Our van, Priscilla, is fun to drive, and there are some great roads in Europe.
Off tour, I practice and sleep. I also meet up with my favourite ladies from Joan ov Arc, a band I play percussion and kit with.
Do you find being a woman makes any difference when it comes to auditioning and playing in male-led bands?
I don't really look at it in that way. I have always been underestimated, but I think that's because of my size and I'm pretty quiet. I'm not much bigger than a Chihuahua. I just let the instrument do the talking. They soon shut up after sound check. At the end of the day it doesn't matter, you can either play or you can't, male or female. I think there is some kind of snobbery, even Adam once said: "I'm not playing with a girl". He did apologise afterwards though – cheeky git!
Who are your main drumming and musical influences?
I listen to a lot of stuff, ranging from the 60's to present day. I am a rocker at heart but I love a good pop song. Lately though, I started listening to Tegan and Sara. The albums The Con and Sainthood are ace. Paramore, Skunk Anansie's new album is very cool. Katy Perry Teenage Dream is really cool too.
Keith Moon is definitely one of my main influences, John Bonham, Dave Grohl, Marty Friedman (ex Megadeth drummer) is ace – we supported them in France. There is a drummer called Jason Bowld that I have come across, and I'm learning a bit from him. My friend Dave Mackintosh from Dragonforce, Tommy Ramone, to name a few.
How would you describe Joan ov Arc's music?
Their music is awesome. In a nutshell, it's rock/pop with great melodies. In January we recorded Beneath the Skies EP. It came out really well and has been aired worldwide. The track Sisters, which I drummed on, is going to be featured on Rock Band 3 for the XBox. This October we head back in to the studio. This next EP will be just as good.
I have always been a fan of the band, coupled with the fact that they're all girls that can actually play. To cut a long story short, I started off on a temporary basis and it progressed from there. When we go out as a 5 piece, me and Debs swap drum duties in the show. The beauty about playing percussion in this band is that I get to run around the stage!
Upcoming gigs
Check Violet's website: http://violetthecannibal.co.uk/gig-dates
Here's a video of Violet doing a solo!
In December Violet will fly over to Adam's home town of New York, to play shows in the city and most importantly a Memorial Concert for his wife, Clare O'Connor, who sadly died of lung cancer, aged 51, in July. She was also a mother to two daughters Darian (21) and Blaise (11).   
Clare was very well known publicist and promoter on the New York music scene representing many clubs including the Limelight. She gave some of the biggest bands such as Guns 'n' Roses and Red Hot Chilli Peppers their first big break in New York. "The Limelight's best ideas and most memorable moments came from Clare": Gabriel Rotello. 
– See more at: http://www.whensallymetsally.co.uk/entertainment/music-and-performance/violet-the-cannibal#sthash.q9yM7VxU.dpuf